One platform to replace them all
All of your content and users in One place: Create, Deliver, Communicate and Monetize
Free Registration. Always.
How it works?
Register, check information, set up a meeting with our team, and let the magic happen...
Your network is your net worth - we all knew it, but only until recently we've been able to turn sales & marketing into a value adding community activity. Classerium is one of these solutions that allows you to build a business and relationships at scale.
– Janos Barberis, SuperCharger Ventures
Content
Live Events
Monetization
Communication
Insight
Joyful environment to consume content
Intuitive design specifically created to hold the attention of every single user. All needed information on Home screen, Comfortable to navigate Content Structure, Automated Notifications, and much more...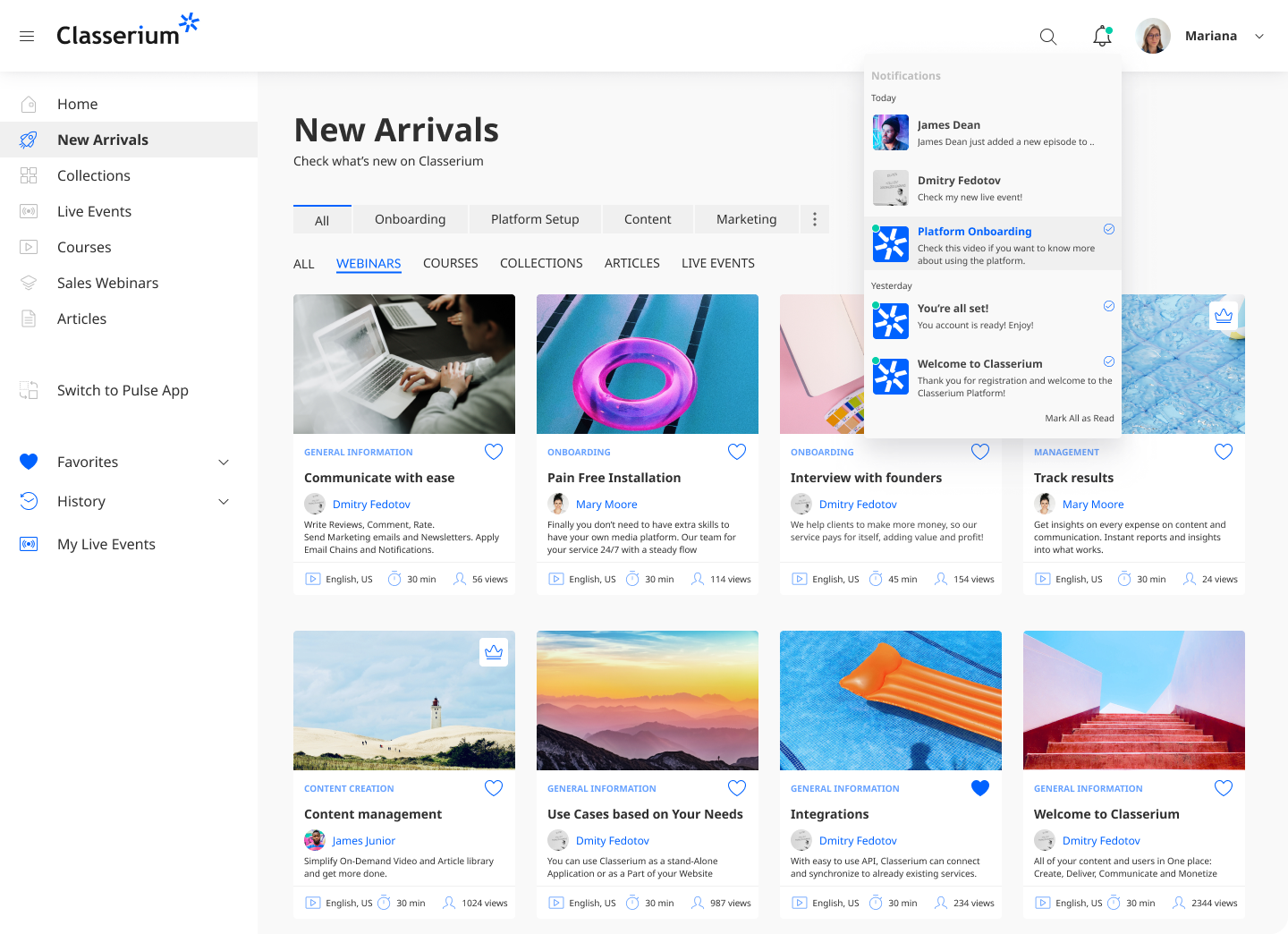 Create and Manage Content in a Couple of Clicks
Set up Categories, User Groups, Access Levels, Speaker profiles, Publishing Rules, Static Pages, Emails and Help Center from one single screen. Human Friendly and Easy to Understand.
Control how your Platform Look and Feel
Tune everything - from domain name and emails to every color, button and form, add languages on-go, and even change interface with instant preview
Easy Installation
Personalization
Integrations
Migration
Built for individuals and Teams of all sizes
Content Creators
StartUps
Consulting
Corporates
Hardware
Sales
Public
Build a Community with your Own Rules
You are the Master of your Platform. Place any content on the Platform without prejudice (If it's legal)
Monetize your Knowlege
Build a steady revenue stream under your control, with ease and fun
Create your Universe
Publish and deliver content on your terms. Create structure, notify followers, share updates and enjoy the whole process all the way
Tell the world what you are working on
Use a powerful communication tool from day one. Focus on your content - Classerium helps you to deliver it!
No More "Book a Demo" Pains
Prepare your prospects before the talk! Gain a Happy Sales team with a fully automated and trackable flow
Save Money
Save money with - no code solution, working out of the box, pay only for one system, automation. Spend your teams time efficiently
Consult Customers Directly
Your own Communication System, out of the box, adapted to your needs. No expensive Tech Stacks
Your Solid IT Partner
Classerium works directly with you as if a part of your company. Reap the benefits, development and insights from our other clients in your market
All in One Place
From gaining new Clients to attracting Interns, Automated Integrations and more. Boost your business up to 40% with Classerium
Train your Customers
Trained Customers use your product more efficient! Saving you money and time
Integrate
Easy integration with your existing Tech Stack and databases, API, SSO and more...
Track Results
Get insights on every expense on content and communication. Instant reports and insights into what works. NO need to hire Consultants and Agencies to enhance it all!
Internal Training
Train your employees, Service team with fresh information when needed
Database for Clients
If you are still sending Pdf's to your clients - its time to take control of their engagement
Support Line
Supporting or even replacing your Call Center - Schedule Calls with consultants - Visualise issues and so much more...
Train your Sales
All your Sales information and techniques in one single place with automated scripts - ready to be used
Automate Sales
Use Pre-Recorded Webinars to generate HOT Leads, Automate Follow-ups, Onboard new Users and more...
Steady Flow
Keep information about every user action, from prospect to customer in one single place with historical data
Public Administration
Public Admins needing to relay information. Let this platform be your voice, Your everyday "All-In-One" tool
Collect Feedback
Communicate with your users in multiple ways. Build a flow to know their pains, and gain proper feedback
Use Anywhere
From Public Schools to Communal administration, Pension Systems, Universities, Education, Integration, and more...
Most frequently asked questions
Who produces the content for the platform?
You do, as a customer you are solely responsible for populating the platform with content.
What can I change on the platform?
You can change the colors of any element based on the design system, interface naming, logos and email design. You can't change the layout of the pages and the general logic of the platform.
How can I manage content?
You will have full access to content creation and moderation via the internal CMS. It allows you to create any content and manage it in minutes.
Can I use several languages on the platform?
Yes, currently we support 49 languages for interface and content. In case you are missing some - we can add it within 24 hours.
How can I upload my employee and customer database on your platform?
We will help you to upload your various Databases securely with a script from a CSV file. Your information is in good hands.
I want a unique feature that is not currently existing. Can you provide this?
Yes, it's doable. In case your suggested feature makes sense in our standard platform functionality - we will prioritize it in our development plan. In case the required feauture works only for you - we will estimate the cost based on hourly rates, and you will be able to start using it within a short period of time.
Contact us
Please write to us to receive Special demo and pricing offer based on your needs